Polyurethane Gear & Pinion & Sprockets ( Poly Urethane | PU ) China Factory Supplier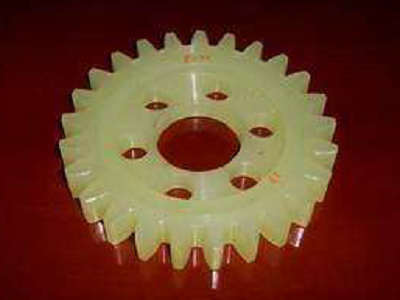 Polyurethane Gear Is Made Of Rubber Mould Or Metal Mould , Using Liquid Polyurethane Elastomer As Raw Material And Casting . It Is Vulcanized By Vulcanizing Tank For The Second Time , And It Is Heated In Warehouse For More Than 24 Hours . Most Sizes Are Completed In The Polyurethane Casting Process , And Very Few Details Need To Be Machined .
Polyurethane Gear Classification :
Helical Gear
Bevel Gear
Internal Gear
Turbine Gear
Herringbone Gear
Gear Rack
There Are Many Advantages In Choosing Polyurethane As The Raw Material Of Gear .
Silence , No Noise : This Is One Of The Main Reasons For Choosing Polyurethane As Raw Material , Because Polyurethane Is a Flexible Soft Material , Polyurethane Collides With Each Other Or With Metal , And No Sound Is Produced When Rubbing . So For Some Mechanical Gear Parts , Good Silencing Effect Is Very Important .
Light Weight , Low Cost : Polyurethane Density Is Only 1/7 Of Steel Material , That Is To Say , To Produce Polyurethane Gear Of The Same Size , Only 1/7 Of The Weight Of Steel Material Is Needed . Although Polyurethane Raw Materials Are Expensive By Weight , The Unit Price Is Much Cheaper . In Addition , Polyurethane Gear Belongs To Die Casting , One-Time Forming , Often Do Not Need Secondary Mechanical Processing , So The Price Is Very Low .
Self-Lubrication Characteristics : The Good Polyurethane Gear Surface Produced By Our Company Is Very Smooth , And Has Its Own Oiliness . It Works Very Well In Rotation . If Lubrication Is Needed , Water Can Be Added To Lubricate .
Low-Speed Gears : All Polyurethane Gears Belong To Low-Speed Rotary Gears , Because Polyurethane Self-Heating Is Very Serious , Too High Speed Leads To Excessive Heat Of The Gear Itself And Damage Polyurethane Gears . Therefore , Polyurethane Gear Must Be Equipped With Cooling Facilities In The Use Process .
Non-Rusting : Polyurethane Gears Are Different From Other Metal Gears , Without Considering The Problem Of Rusting . However , The Physical Properties Of Polyurethane Will Deteriorate If It Is Used For a Long Time , So Polyurethane Gears Must Be Replaced Frequently .