Polyurethane Hydrocyclone Linings Parts ( Cyclone )( Urethane PU ) China Factory Supplier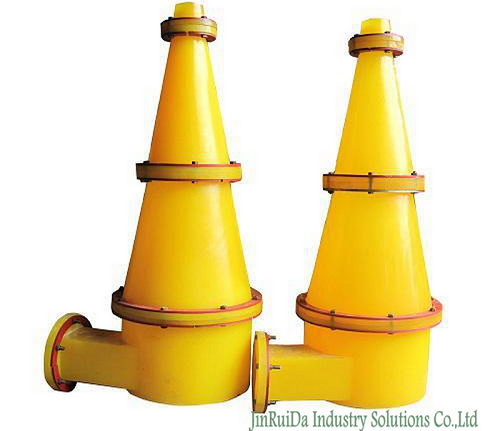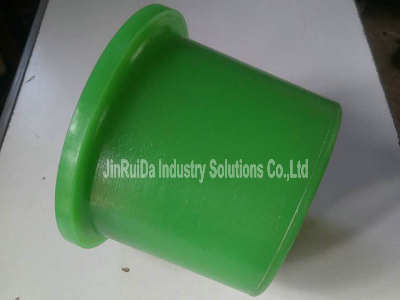 Polyurethane Hydrocyclone Main Function Is To Separate Fine Particles. It Consists Of Feeding Inlet ( Feeding Box) , Overflow Pipe, Cylinder Parts , Cone Parts And Sediment Settling Pipe ( Spigot ) , Vortex Finder . The Inlet Section Of The Cyclone Is Involute.
Material Enters The Cylinder Of The Cyclone In The Way Of Involute Feeding, Forming a Spiral Motion. Involute Feeding Can Minimize Turbulence And Maximize Kinetic Energy Into Centrifugal Force.
In The Centrifugal Force Field, The Centrifugal Settling Velocity Of High Density Particles Is High, Which Is Concentrated In The Outer Layer Of The Hydrocyclone And Flows With The External Swirl To The Bottom Outlet.
The Centrifugal Settling Velocity Of Low Density Particles Is Small, And They Are Concentrated In The Inner Layer Of The Hydrocyclone, Moving Along The Inner Swirl Direction To The Overflow Pipe, Forming a Law Of Density Stratification.
The Cyclone Of Our Company Is Made Of Polyurethane Elastomers , And Somes Is Steel Hydro Cyclone PU Linings Which Has The Advantages Of High Strength And Low Weight.
Polyurethane Cyclone Is a Hydrocyclone Made Of Polyurethane Elastomer For Polyurethane Casting Parts. It Has The Characteristics Of High Wear Resistance, High Strength, Light Weight And Long Service Life. Polyurethane Cyclone Specifications Can Be Arbitrarily Selected Between 10mm And 610mm.
Today We Will Look At The Characteristics Of Polyurethane Hydrocyclones.
1. The Polyurethane Cyclone Feeding Inlet And Outlet Tangent Feeding, Smooth Transition, Is Conducive To Improving Separation Efficiency, Separation Particle Size Range Is Wide;
2. The Polyurethane Hydrocyclone's Bottom Outlet Is a Umbrella-Shaped "Wet Bottom" Sand Discharge With Pressure, Which Makes The Particles In The Separation Zone Expel Rapidly And Reduces The Probability Of Blockage Of The Bottom Outlet.
3. Composition Of Polyurethane Hydrocyclone And Manifold Makes Operation And Maintenance More Convenient.
4. The Polyurethane Hydrocyclone Uses Wear-Resistant Polyurethane Material, Which Has The Advantages Of Good Corrosion Resistance, High Fluid Erosion Resistance And Long Service Life.
5. According To Customer's Request And Disposal Quantity, Several Types Of Cyclone And Cyclone Can Be Selected To Form Desander.